Working from home has become more popular than ever, offering mostly pros and a few cons to today's modern work experience. In 2020, nearly 90% of organizations moved to remote work, and both workers and employers found the switch to be a beneficial one.
Even if everyone isn't working from home, it is estimated that at least 70% of the workforce works remotely at least one day during the work week. This means that remote work is going to stick around, and having a backyard office at home is more desirable than ever. Having a customizable, quiet space designed with efficiency and enough lighting can be a game changer, allowing you to create the perfect work-life balance you have always desired.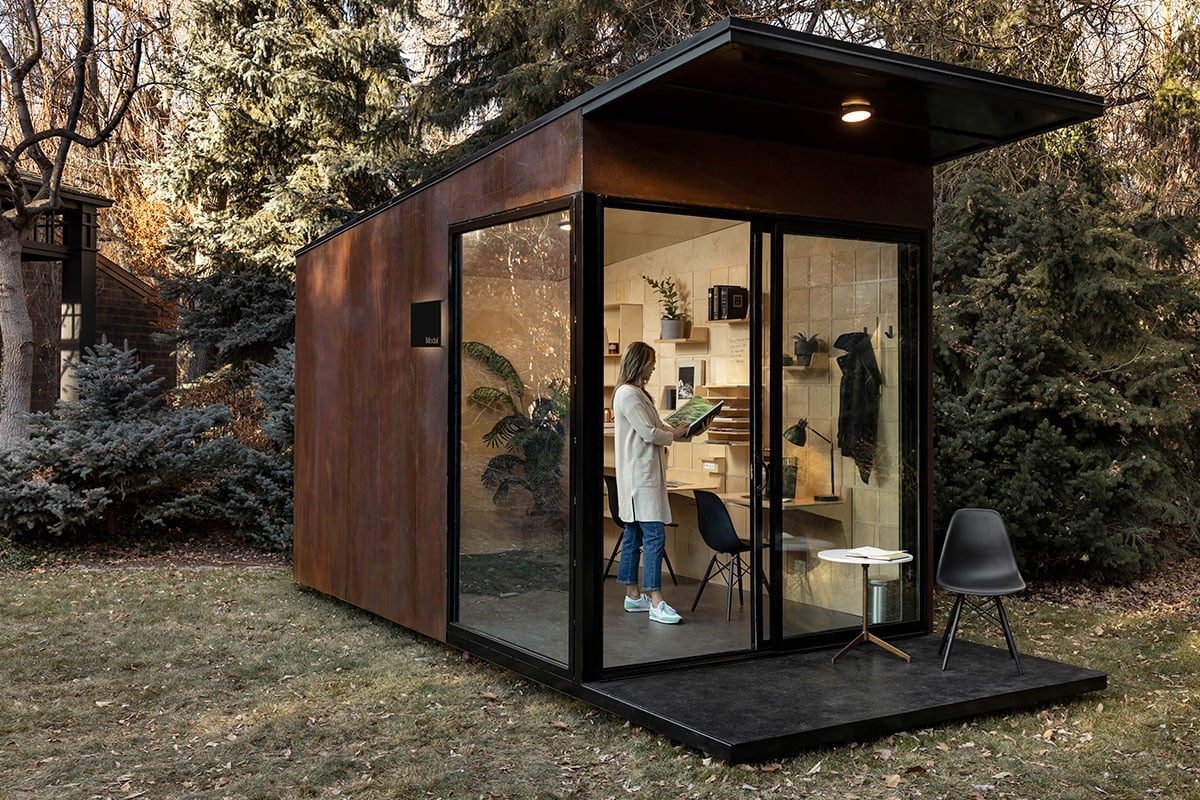 Ideal Remote Working with a Backyard Office
A modular office addition will completely change the way you work from home. No more distractions or isolation, instead you'll experience better productivity, personal well-being, and connectedness all around. Most importantly detached home offices make it easier to avoid some of the usual pitfalls of working from an office room within your home.
No Distractions
A separate space to work eliminates daily distractions that might otherwise interfere with your to-do list. When your home and work environment are separated, things like chores or unfinished tasks around the house are no longer within eyesight. Noise is eliminated as well if other family members are at home throughout the day. A designated space makes it easier to stay focused on your work.
Avoid Overworking
The separate space outside of your home also makes it easier to avoid overworking. While an in-home office makes it harder to separate your work and home life, you can completely step out of work mode when you go back inside your home. This makes it easier to spend time outside the workday enjoying your personal life and focusing on the things that matter most to you.
Less Isolation
Working from home can sometimes make employees feel a bit isolated from one another. You miss out on small-talk in the break room, after-work happy hour, and casual chats before and after meetings. When you have a detached home office, you have the quiet space to connect with coworkers remotely both during and after work, without distraction. This space also allows you time to focus on getting things done so there's time to connect with coworkers for fun.
A backyard office only expands on all of the benefits you receive with a remote work schedule. A customized workspace makes it easier to focus, get your work done, and spend more time on other things that matter to you.
Increased Productivity
Studies have found that working remotely increases employee productivity by 12%. The ability to focus and work at your own pace, uninterrupted, makes it easier to stay on task. There is also the added benefit of no workplace or home distractions when you work inside a modular office addition in the backyard.
Flexibility
Not only does productivity increase when you have a separate backyard office space, your ability to control your own time and schedule increases as well. The workday becomes more about finishing projects and responding in a timely way, instead of the hours actually spent at your desk. This frees up your time to focus on other areas of your life as you see fit.
Emphasis on Health
With increased flexibility and productivity, you have more time to spend on your well-being, and a detached home office has its own perks that contribute to your wellness. The natural light in the 119 sq ft Pod can contribute to a boost in mood. The Pod has a large window and sliding glass door, making it easy for you to soak up plenty of vitamin D throughout the day.
Reduction in Work Absences
The increased focus on, and contribution to, wellness provided by a separate home office space leads to a reduction in the days spent not working. Your work time is more flexible and you're less likely to get sick, which means you can spend all of that paid time off on something fun like a vacation instead of a sick or personal day.
No Commute
Studies have found that employees save around $4000 a year on average when working from home. This is largely because no commute is required, which saves a lot of time as well. All you have to do at the start and end of each day is take a leisurely walk through the backyard. No more busses or grid-lock traffic — just a short and peaceful walk to your desk.
Comfortable Environment
One perk of a backyard office space is the ability to customize it to your specific needs and preferences. This includes the temperature. The Pod is efficiently climate-controlled so you can keep the space as warm or cool as you want. This modular home office can also be designed and outfitted to your taste. A desk is essential, but there is some extra room for a day bed if you like an afternoon snooze, or space to lay out a yoga mat for a midday stretch. The options are endless, all that matters is that you stay comfortable and make it yours.
With a backyard office space, working remotely never has to be isolating or stressful again. You can create a space that works for you, right at home, so you can organize your time and energy in a way that creates the life you want to live each day.