A backyard rental property will add value to your home as well as the ability to bring in some extra income every month. While the monetary incentive of a rental property might be the main motivation for you to add a modular home to your property, it is important to remember it's a business that requires some thought and care.
Good landlords attract good tenants and good tenants bring in steady revenue. Get started with these tips, which will ensure that you enjoy and fully benefit from your backyard rental property.
Tips For Renting Out Your Backyard Rental Property
1. Remember It's a Business
Renting out your modular home as your only rental property might sound casual, but it's still a business. You'll find more success and have less stress if you treat it that way from the beginning.
Start out by doing your research about the laws and ordinances in your state and local area. Keep digital records of everything from the beginning. Also, think very carefully about who you choose to rent to. Friends and family can be a good option in some situations, but remember that renting to someone close to you could potentially pose complications in the future. It's hard to evict someone you love, or to bother them about rent. If this is income you will be relying on, consider this carefully before committing to anything.
2. Set a Fair Rental Price
Do some research before listing your property for rent. You want to be sure that both you and your tenant are getting a fair deal. As a small home landlord, this is one of the most important things you will do. A fair rental price will attract good tenants and keep them. You can easily research rental prices specific to your area online.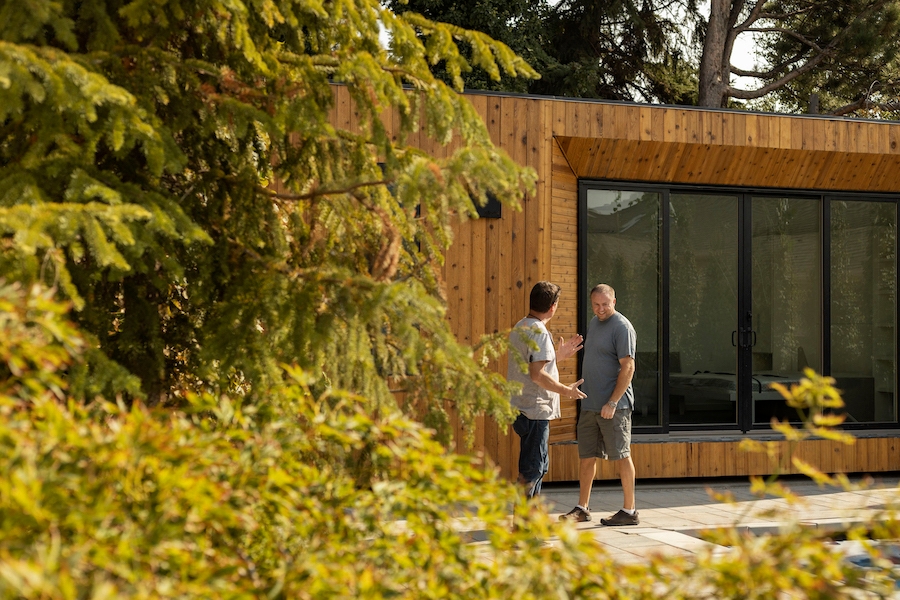 3. Find and Keep Good Tenants
After setting the rental price, take high-quality pictures and be thorough in your descriptions of the property when listing it. List your backyard rental property on trusted sites. Taking these steps will attract quality renters, and help to ensure a good fit for both of you.
Additionally, once you have found good tenants, going the extra mile never hurts. Help them get acquainted with the area by providing recommendations if they are new in town. Write them a welcome letter. And most importantly, always be responsive and available to talk to them about any concerns that may arise or questions they have. This will keep good tenants around longer, which means less work and stress for you in the long run.
4. Screen Your Tenants
This step is so important, especially if you will be living on the same property. Always screen tenants before sending them a rental agreement. This means a background and credit check. This is doing your due diligence as a landlord, and can help avoid issues for you in the future.
5. Have a Solid Agreement
Make sure you have a solid rental agreement in place. Have a lawyer take a look at it to make sure it meets all of your needs as the property owner and small home landlord. Like screening your tenants, this agreement will help avoid complications that could potentially arise down the road. It's all about doing everything you can to avoid stress or issues for both you and your tenants.
6. Go the Extra Mile
Like with any business, paying attention to the details will set you apart and make your life easier as a landlord. It will also attract and retain good tenants. Make sure that you have the right insurance on your property, and require renters insurance from tenants. This way, if anything ever does go wrong, you are both protected and things can be resolved as quickly as possible. Setting up online payments is another great idea. When a tenant can easily pay online, missed payments are far less likely and it helps you keep a record of all transactions in one place.
Keeping the property safe and clean to the fullest extent possible will never go unnoticed. A comfortable living environment is great for both you and anyone living in your backyard rental property. Extras like including some shared outdoor living spaces or simply maintaining a relaxing aesthetic throughout the property will go a long way. This includes addressing any issues that the tenant might bring up in regards to safety or comfort on the property.
Doing these things will help to ensure a positive experience for both you and your tenants. This way, you can enjoy the extra income and increased property value of your modular home without stress or worry.
Interested in adding a backyard rental on your property? Fill out Modal's qualification form to learn more today.