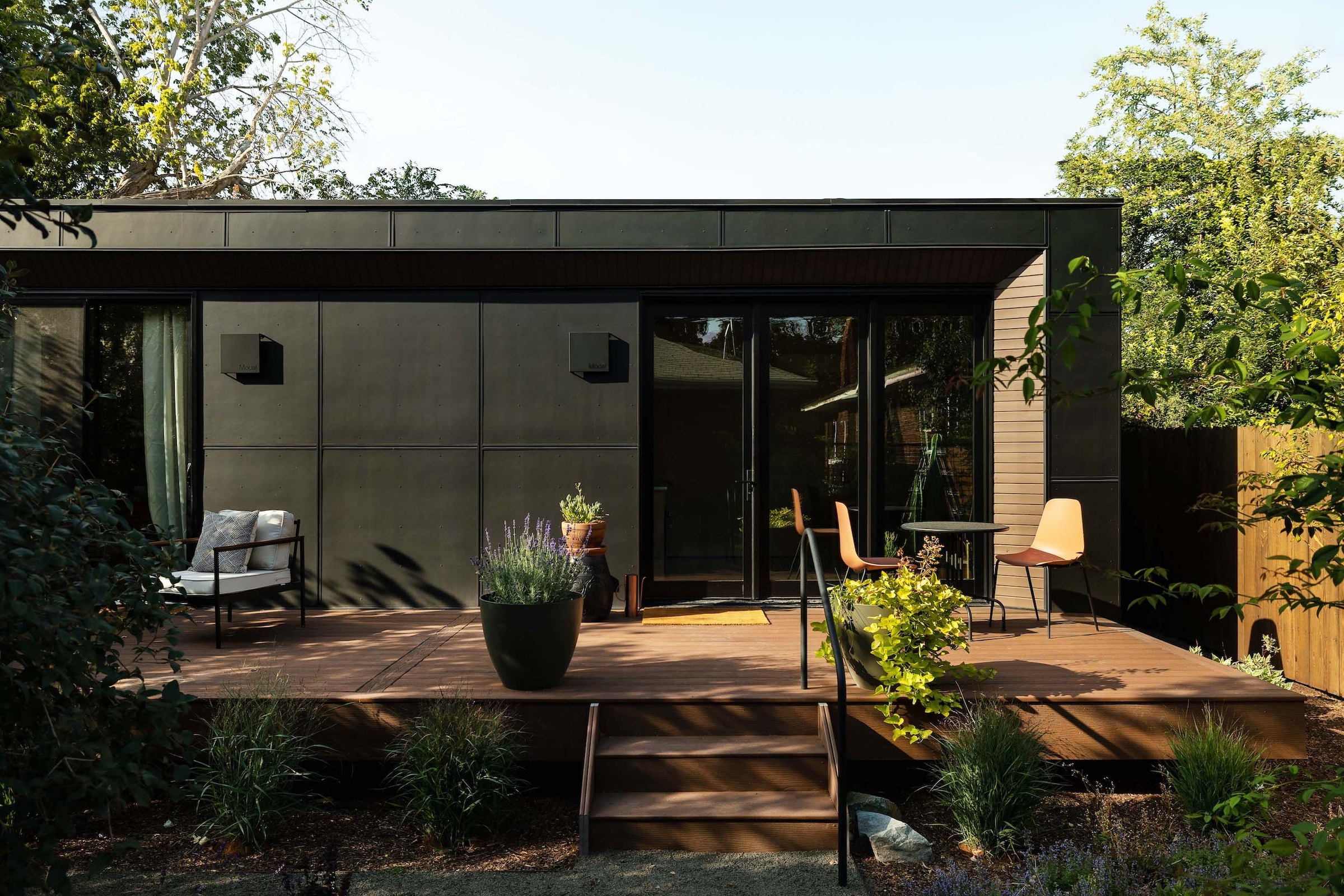 With the housing market on the rise, renting out basements or creating Airbnbs is continuing to gain popularity. With Modal, you can achieve these goals and do so through an environment-friendly approach! All you need is extra space on your property, and we can install an accessory dwelling unit (ADU) that you can use as an Airbnb, rental, home office, etc.
The sky's the limit.
Modal allows you to achieve more with your property. Our ADUs are made out of recycled material and use the latest design trends to give you additional property value and housing while maintaining a sleek, clean look around your home. Questions like ?Do modular homes hold their value?? and ?How much value does an ADU add?? are some of the top deciding factors for people looking to invest in an ADU, so we've compiled a list of reasons to add one in 2022. We hope this list will help you decide how best to create value and earn additional income with your extra yard space.
#1. Increase Your Income
With the ever-growing popularity of companies like Airbnb and Vrbo, countless individuals have started renting out their extra space to increase their income. The greatest challenge with creating Airbnb or Vrbo listings is finding room on your property for them. With an ADU, this challenge becomes much easier to solve. Instead of clearing out old storage rooms or remodeling the basement, you can purchase an extra building on your property to rent out (with minimal effort on your part!).
Airbnb hosts make an average of $924 a month in extra income (that's $11,088 yearly!). This number could be even higher once you consider factors like where you live, how large the space is, and how long you rent the space out for. The income made from hosting or renting out property can increase substantially with these factors and increase that extra monthly income.
Modal's units come with all the setups and permits required, so you won't find any hidden fees in the investment. With cost-effective pricing and high-quality materials, we'll give you the option of increasing your income and saving money on maintenance with brand-new, high-quality dwellings that maintain their value.
#2. Utilize Your Space
Spacious backyards are pretty, but they don't serve many purposes. With the increasing prices of rentals and Airbnbs, turning that extra space into a dwelling can make a huge difference on your income and property value. With Modal's ADUs, you can still maintain a beautiful backyard while investing in a compact building to rent out or host on Airbnb.
When you utilize Modal's ADU options, the building process is both environmentally friendly and maintains the integrity of your backyard. Modal proudly uses recycled materials and manufacturers who pledge to produce less waste and fewer carbon emissions than average on-site construction projects.
Maintaining a beautiful backyard with an added dwelling is one of the best ways to use your extra property space and increase income and property value. You can save on landscaping costs while earning additional income from renters and guests in the unit. ADUs are one of the best investments you can make for your property and are worthy of serious consideration for property improvement projects in 2022.
#3. Increase Your Property Value
So, how much does an ADU increase property value? An ADU in your backyard increases property value by 20-30%. Compared to other backyard features, such as swimming pools (they can increase property value by around 7%), that is a staggering amount of added value for your property.
Detached ADUs require an investment to begin, but with companies like Modal that plan out and prepare every aspect of the process, it is an investment well worth the initial price. The continual income you'll make from renting out the property not only invests in itself but also greatly increases your property value. Some ADU projects can even add double to the property value compared to building costs ? almost an instant return on investment. With 2022 underway, adding an ADU to your property is one of the best investments you could make. Check out Modal now to see if your property qualifies!
Why Choose Modal?
ADUs are excellent investment options for individuals wanting to increase the value of their properties and earn additional income each month. With Modal, cost-effective and environmentally friendly units are prepared and waiting to be installed on your property. You can skip a never-ending construction project on your property. With a simple purchase and a little design planning, extra income and increased property value are within reach. Start planning your ADU addition today, and raise your income in 2022!
Check out our website, and start investing in your future today!