Kirsten Dirksen Tours 1-Bedroom ADU with Modal Co-Founder

Modal Team
youtube: https://youtu.be/QY-8aUBlYi8?controls=0&modestbranding=1
A year after Salt Lake City allowed owners to put tiny homes in their backyards, Colin Jube and Dallin Jolley launched Modal Living, creating prefabricated housing that allows homeowners to erect small shelters within months. Modal charges over $100K per unit, but they say owners are renting them for $2k to $3k per month. They're also being used as in-law units and for kids home from college. Jolley says prefab housing has come a long way since the park model mobile home trend of the '50s and '60s.
For more info on ADUs, visit livemodal.com
This video was filmed by Kirsten Dirksen. You can visit the original post at faircompanies.com
Video Transcript
Can backyard homes provide income & housing?
Colin: There's an affordable housing crisis here like there is everywhere in America, so Salt Lake City passed an ADU ordinance. Previously, ADUs were only allowed in multi-family zones that allowed duplexes and triplexes, but the city overhauled the ordinance to allow for ADUs in single-family homes. Now every single-family home in the city is allowed to have a backyard guest home or ADU. [There are different types of ADUs]: you can attach an ADU to the house, or you can convert a garage into a living space — our unit that we'll see [in this video] is a detached ADU in the backyard. A lot of times we see customers putting up a fence [between their home and ADU] and it really feels totally detached from the rest of their yard so they can still use their backyard like they were before, but now they've got a Modal unit that's being used for something they didn't have before. So it doesn't mean that you're sacrificing the whole backyard, necessarily.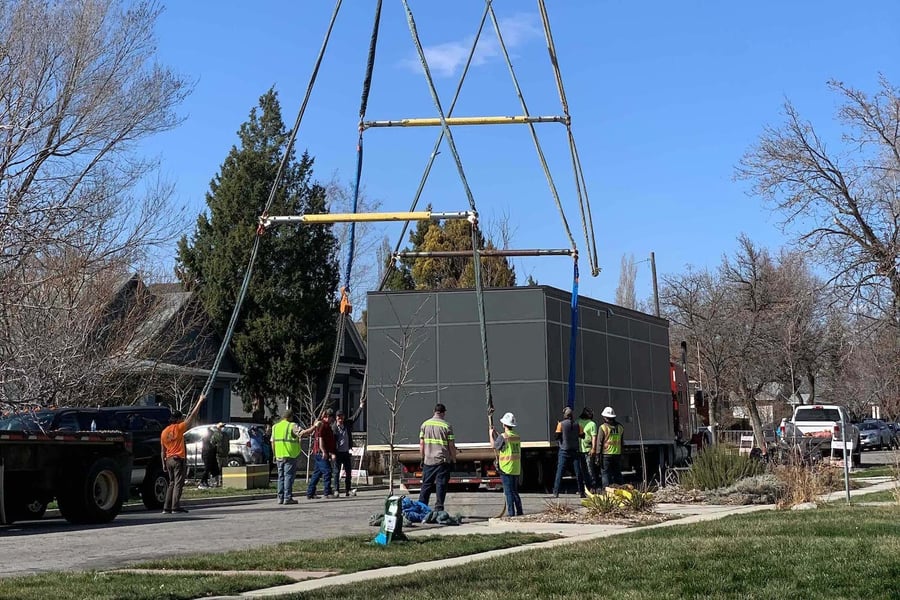 [Our units are] built using a technique called volumetric modular construction, meaning the entire unit is constructed off-site — the only thing that's done on-site is the foundation and the utility connections. The whole unit's complete when it arrives, it rolls in on a flatbed truck and a big crane sets up in the street, picks it up, and pulls it over the house. On install day, it's pretty fun to watch this crane come in and bring it all the way over the house and drop it down, it happens surprisingly quickly. This [client's unit] is a little bit farther [from the road] than other clients. The farther the reach, the larger the crane we need and it can get pricey. However, if you were to site-build something like this, it's difficult. You've got to hire architects and contractors, you've got to process permits at the city and those things draw out construction projects. Plus you've got contractors coming through your backyard all year long and dragging mud everywhere and it gets messy. The other benefit of modular construction is, [for this client's project], the site work probably took about two weeks then the unit was placed in a day and we'll take another couple of weeks to do the touch-ups and it's over. This unit is sitting on a concrete foundation, which is pretty typical. It has a standing seam metal exterior that's really durable.
Kirsten: So can you talk a little bit about how this might look when it arrives?
Colin: This unit will come with everything strapped down, all the appliances have straps so they're not opening and being damaged during transport. It's fairly common in modular construction to see little cracks in the drywall because this unit is shipped down the road for sometimes over a thousand miles and so [once it's placed] we'll come in and touch those things up, but really everything you see now is here when the unit arrives.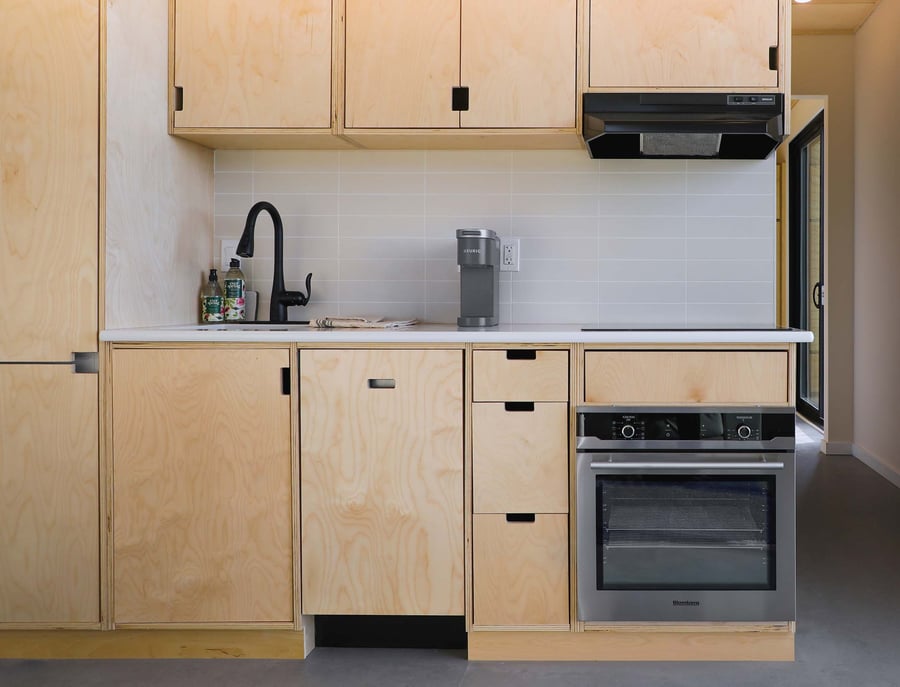 We have to hook up the utilities, but we've designed that to be a really quick plug-and-play process. As you can see in the bathroom, there's a little access hatch where you hook up the utilities — it takes less than an hour and you're good to go. So the idea behind the bathroom design is that it feels like a nice large bathroom in a single-family home; we've got a decent-sized shower here and a standard-sized toilet, we fit a stacked washer and dryer and there's some storage space as well. You can see [the bedroom] has built-in storage around what's actually a murphy bed. When designing a small area like this, we wanted to provide enough storage and still allow plenty of space for people to do what they want with the room. The murphy bed can pull up and turn into a table or desk. These are the kind of things we [factor into the design in order to maximize the] small, efficient space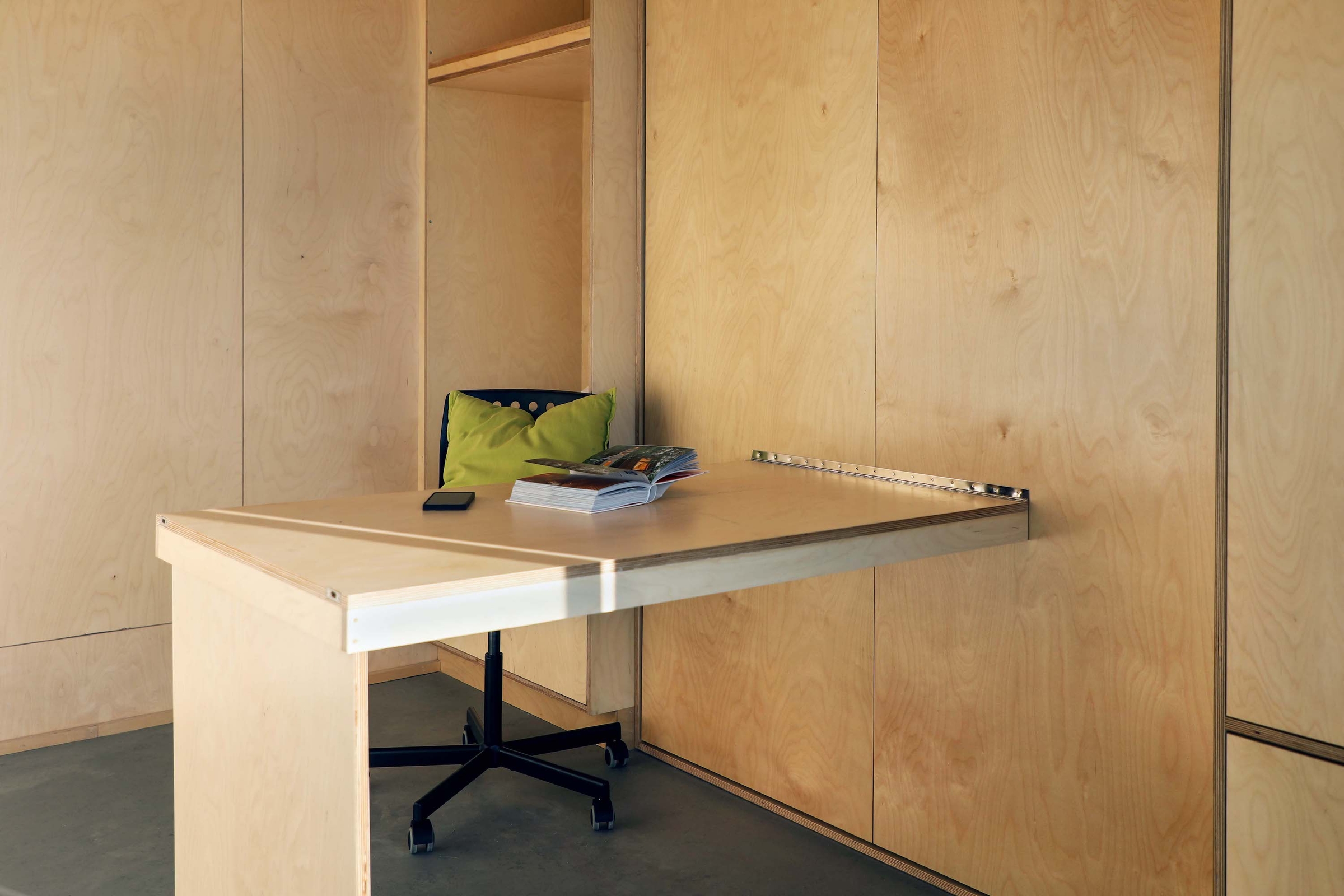 Tiny homes mean different things to different people. You see tiny homes on wheels that are very compact, sometimes under 150 square feet, and they're beyond efficient: you're sleeping on top of the refrigerator sometimes, you're maximizing every square inch. This is a permanent improvement to real estate — it's sitting on a permanent foundation but it is a small, more efficient living space. It's almost like a detached apartment unit.
The history of manufactured housing is really interesting, it was spurred by the Department of Housing and Urban Development, or HUD, which was trying to address affordable housing decades ago. They rolled out ?HUD code? and in response to that, manufactured housing was born. HUD Code has a [lower set of requirements] — when you think of trailer park homes or manufactured homes that are often found in rural areas, that's what this new code brought about, which was critical during that time to address affordable housing. Now we're almost seeing a return to that method of building, but with an expansion of the design options and the type of homes that are being built off-site. It's a balance. Building in a factory means we're limited: we can't change the floor plan, there are certain aspects of the design that we're not going to be able to change but we offer certain options and upgrades. Built-in storage with a murphy bed is one of those options; this unit didn't have it but in the living room we offer some extra storage in the form of a daybed bench. This barn door is an upgrade as well, it gives us a little more of a luxurious feel.
This is one of three models we offer so this is a 432 sq ft one-bedroom, we also have a smaller 338 sq ft studio and a 567 sq ft two-bedroom unit.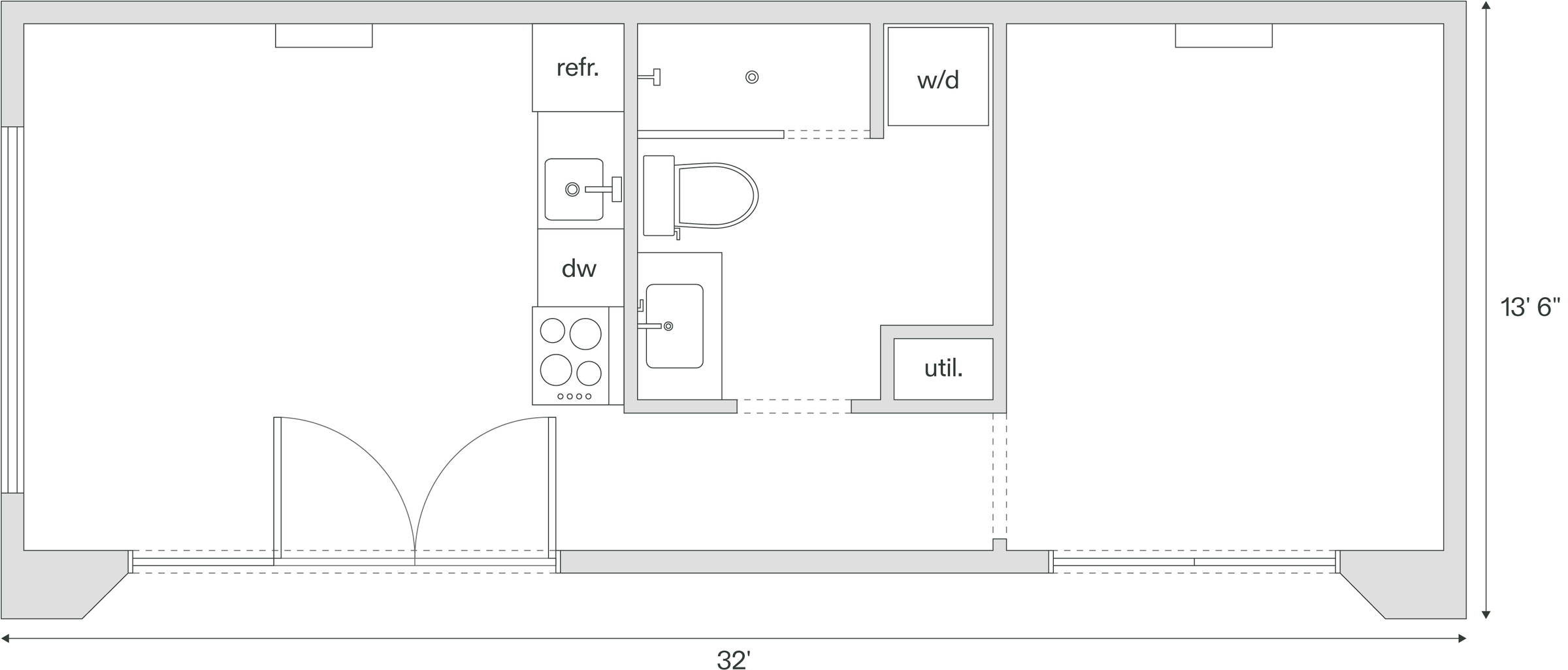 In modular construction, we are constrained by how units are built in the factory and by how they're shipped, so this unit is 13.5 feet wide which is really about as wide as we can go from a shipping perspective without a double-oversized load and a much more intensive shipping process. So we've got a number of options and upgrades but they are limited to finishes and basic things, not really substantive changes because in the factory they have a certain blueprint they follow. The more [we can keep the units standardized], the more efficiency we'll gain in the factory. It also means there's less room for error and the factory is able to streamline its process around a particular design. In the United States, less than 1% of construction is done in a modular process. In Japan, it's nearly 20%. The idea behind prefab modular construction is that it's like building a car — you would never have sheet metal, glass, and components shipped to your house and construct the car on-site — that's really inefficient. Because we're able to order in bulk, we're able to get the cost down below that of a site-built product, and we get a lot of efficiencies by building in the factory.
[The facade inset] is cedar, it's a design feature we really like. We lose a little bit of square footage by doing this, but it's beautiful — nearly 70% of our customers are investors [who use their Modals as] an investment or a rental property, but that doesn't mean they don't care about how it looks and feels in their backyard. Our one-bedroom unit shown here starts at $119,000. They're not cheap, but our clients are renting these for often between $2,000 and $3,000 a month, so as an investment it makes a lot of sense. Some of our clients have family members like aging parents who are living in their Modals, and as an alternative to assisted living facilities, it's quite affordable. We also have parents who have children going to college and need a place to stay [when they graduate or come home to visit]. The uses are all over the map and it's really flexible. So many people have backyard space that's unused, so we're able to help them use the space in a more efficient way.